No, that's not a typo. Here at USGBC we may be celebrating our 20th anniversary, but the buildings that have achieved LEED certification embody a history that stretches far deeper into the past than 1993. In fact, we recently certified the oldest LEED buildings both in the United States (Fay House at Harvard University, built in 1807) and in the world (a Venetian Gothic palazzo from 1453!).
These remarkably historic green buildings are certainly not alone. Dozens of historic buildings have become LEED certified, and some of them are already well known, like the Empire State Building, the Chrysler Building, and Chicago's Merchandise Mart. These projects are incredible examples of how historic preservation and environmental sustainability can work hand in hand, and how saving the past can enrich the future. Below we present 20 green historic buildings, one constructed in each decade of the last 200 years:
1821: Pavilion IX, University of Virginia, Charlottesville, VA
LEED Certified, New Construction
Designed by Thomas Jefferson as part of the University of Virginia's iconic lawn, Pavilion IX is the only LEED certified building located within a UNESCO World Heritage Site. The building was renovated to LEED guidelines in 2011 and is currently home to the Dean of the School of Nursing.
Photo credit: Flickr user timjarrett


1839: St. Paul's United Methodist Church (United Teen Equality Center), Lowell, MA
LEED Platinum, New Construction
The United Teen Equality Center is dedicated to social and economic development for at-risk youth in Lowell. In 2006, needing more space, they purchased the historic St. Paul's Church downtown, and then renovated and expanded it into the oldest LEED Platinum building in the world.
Photo credit: Lewishine Fellowship Blog
1842: U.S. Treasury Building, Washington, DC
LEED Gold, Existing Buildings
At the depths of the Great Recession, the U.S. Treasury made a bold, forward-thinking decision, achieving LEED Gold and helping save American taxpayers $3.5 million per year in energy, water, and leasing costs. The Treasury Building is the only known LEED certified building on a unit of currency.
Photo credit: Wikimedia
1856: New York State Executive Mansion, Albany, NY
LEED Gold, Existing Buildings
Previously a private home, the mansion has served as the official residence of 31 New York governors since 1875, including Al Smith, Franklin D. Roosevelt and Nelson Rockefeller. A comprehensive greening effort was launched in 2007 by former First Lady Silda Wall Spitzer.
Photo credit: Wikimedia
1869: Westinghouse Air Brake Factory (Pittsburgh Opera), Pittsburgh, PA
LEED Silver, Existing Buildings: Operations & Maintenance
Before H.J. Heinz and U.S. Steel moved into the manufacturing district that became Pittsburgh's economic engine, George Westinghouse built a factory to make railway air brakes. The Strip District is now home to markets, art studios and loft apartments, and Westinghouse's historic factory is the green headquarters for the Pittsburgh Opera.
Photo Credit: Adaptive Reuse
1870: Hardman Farm Main Building, Sautee Nacoochee, GA
LEED Gold, New Construction

Built by a former Civil War colonel, this farm in northern Georgia was later the summer retreat of Governor Lamartine G. Hardman. The property was donated to The Georgia Trust and is now being stabilized for use as a living history center. The restoration incorporated many innovative green features while preserving the historic character of the site.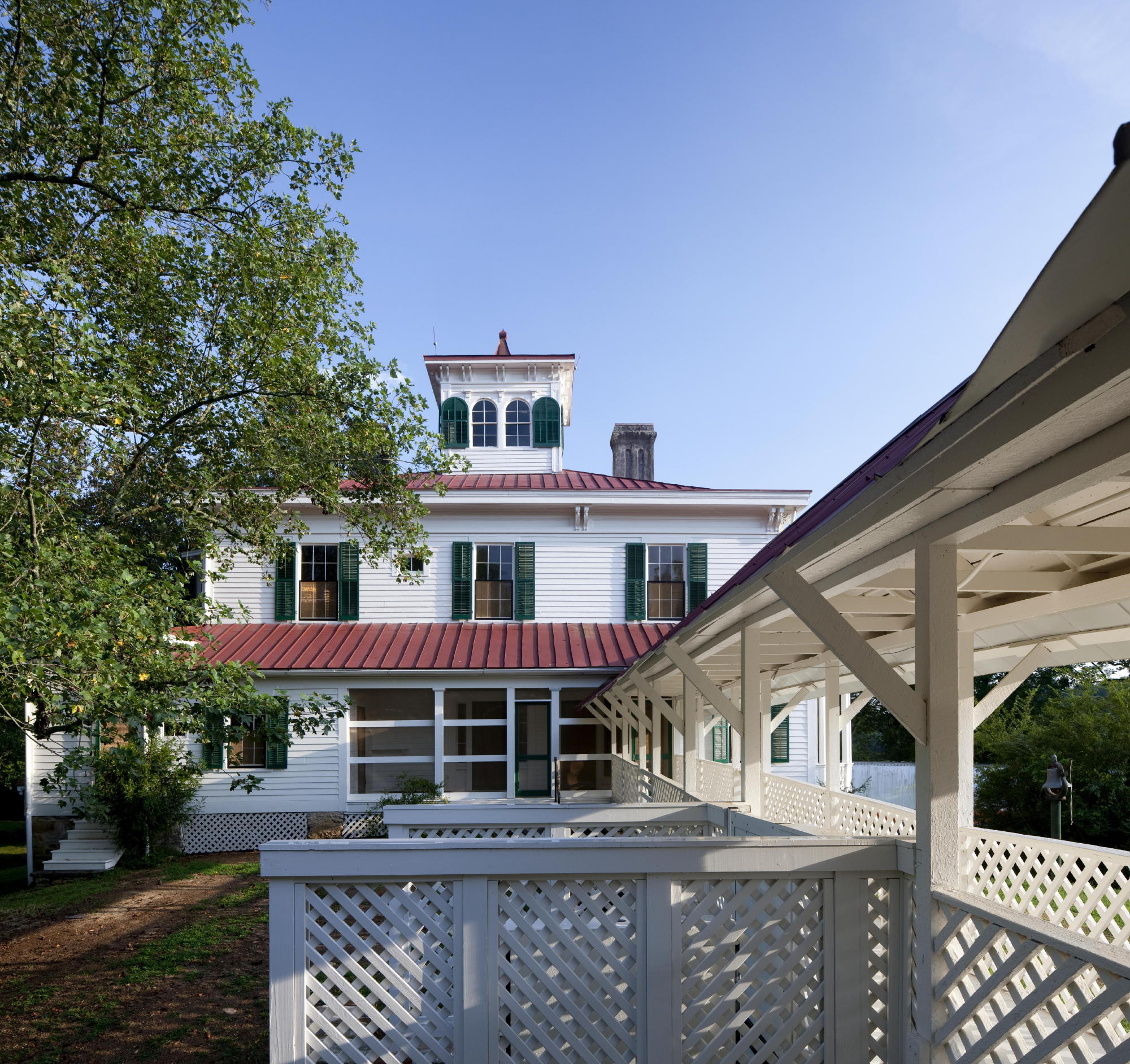 Photo credit: Pitch Engine
1883: White Stag Block, University of Oregon, Portland, OR
LEED Gold, New Construction
Providing a Portland satellite for the main University of Oregon campus in Eugene, the White Stag Block is a spectacular adaptive reuse that ties together three former factory, warehouse and retail buildings. Located in the Skidmore/Old Town district, the building's cast iron façade and White Stag sign make this LEED building a recognizable landmark in Portland.
Photo credit: Facilities Magazine
1894: Colorado State Capitol, Denver, CO
LEED Certified, Existing Buildings: Operations & Maintenance
Even before Colorado became a state in the United States' centennial year, plans were being made for a grand capitol in Denver. The act enabling construction of the capitol required that all materials be acquired within the state, at the time more an issue of local economics than sustainability. The roof now features a 10kW photovoltaic array in addition to its gold-plated dome.
Photo credit: Daderot, via Wikimedia Commons
1900: Carson, Pirie, Scott and Company Building (Sullivan Center), Chicago, IL
LEED Certified, Existing Buildings: Operations & Maintenance
The last major work of renowned architect Louis Sullivan, the Carson, Pirie, Scott and Company department store and office building represents the climax of the Chicago School, with its use of an innovative steel frame structure, allowing much larger windows than the typical building of the time. Having suffered great disrepair in the mid-20th century, the building was recently returned to its former glory, including restoration of the cornice and iconic ornamental iron work.
Photo credit: Flickr user atelier_tee
1910: West 135th Street Apartments, New York, NY
LEED Certified, Existing Buildings: Operations & Maintenance
Standing in the heart of Harlem for over 100 years, residents of these apartments on West 135th Street witnessed and contributed to the rise of the neighborhood as the center of black art and culture in America. The property has provided affordable housing through the Section 8 program since 1979, and in 2010 it received federal stimulus funds to undergo a green retrofit while allowing tenants to remain in-place.
Photo credit: 135 Apartments
1921: Ayers Hall, University of Tennessee, Knoxville, TN
LEED Silver, New Construction
Named after the university president who called for a stately building atop the Hill, Ayers Hall is a major focal point for the campus. Now housing the Department of Mathematics, the Collegiate Gothic styled building received an extensive renovation and modernization, including more efficient water fixtures, lighting and mechanical systems as well as new 21st century audio visual technology.
Photo credit: Wikimedia
1932: Linde + Robinson Laboratory, Caltech, Pasadena, CA
LEED Platinum, New Construction and Major Renovations
Begun as an astrophysical laboratory with a solar observatory, this Spanish mission-style building is now home to Caltech's environmental science center. The telescope dome on the roof is a miniature version of the Palomar Observatory, and in a stroke of true innovation during renovation, the telescope's system of mirrors was repurposed as an extensive daylighting system, channeling light deep into the building.
Photo credit: John A. Martin & Associates
1940: William Kenzo Nakamura U.S. Courthouse, Seattle, WA
LEED Silver, New Construction and Major Renovations, and LEED Silver, Existing Buildings: Operations & Maintenance
With Neoclassical massing and Modernist detailing, the Nakamura Courthouse represents a period of stylistic transition in federal government architecture. The first single-purpose federal courthouse in the western U.S., the building now houses the Ninth Circuit Court of Appeals. The courthouse first achieved LEED certification for its renovation, and certified again using the General Services Administration's LEED Volume prototype.
Photo credit: U.S. General Services Administration
1958: Time & Life Building, New York, NY
LEED Silver, for Existing Buildings
An extension of Rockefeller Center, the Time & Life Building is a prime example of the International-style office towers that lord over the Avenue of the Americas like sentinels. It has been the home of Time Inc. since its opening, which was attended by the likes of Marilyn Monroe. These days, it may be most recognized as the headquarters of Mad Men's fictional 1960s ad agency, Sterling Cooper Draper Pryce.
Photo credit: gbNYC
1965: Chicago Civic Center (Richard J Daley Center), Chicago, IL
LEED Silver, Existing Buildings: Operations & Maintenance
Now dwarfed by its neighbors, the Civic Center was the tallest building in Chicago when it was completed. The rusty exterior is intentional; the building was the first skyscraper to use self-weathering Cor-Ten steel. The same material was used for the monumental Picasso sculpture in the building's large public plaza.
Photo credit: via Cook County Property Tax Consultants
1977: ITC Maurya Hotel, New Delhi, India
LEED Platinum, Existing Buildings: Operations & Maintenance
One of the most luxurious hotels in India's capital, the design of ITC Maurya is said to be based on the shape of ancient Buddhist earthen burial mounds. Its bold concrete exterior gives the hotel an imposing presence, with vegetation literally pouring down the stepped façade. The hotel played host to U.S. President Barack Obama during his trip to New Delhi in 2010.
Photo credit: ITC Hotels
1982: The Portland Building, Portland, OR
LEED Gold, Existing Buildings: Operations & Maintenance
Controversial from the start, Michael Graves' Portland Building, clad in terra cotta and depicting over-sized classical details, was a significant departure from the standard office building of the time. An icon of postmodern architecture, the building is one of the youngest on the National Register of Historic Places. In recent years, an experimental green roof was installed.
Photo credit: Flickr user camknows
1991: MesseTurm, Frankfurt, Germany
LEED Silver, Existing Buildings: Operations & Maintenance
When the tower was capped with its distinctive pyramid, Messeturm stood as the tallest building in Europe, a distinction it held until it was surpassed in 1997 by its Frankfurt neighbor, CommerzBank Tower. Designed by German American architect Helmut Jahn, the building is a postmodern interpretation of Art Deco skyscrapers like the Chrysler Building.
Photo credit: timsdad, via Wikimedia Commons
2001: Philip Merrill Environmental Center, Chesapeake Bay Foundation, Annapolis, MD
LEED Platinum, New Construction
Few buildings can claim to have played as vital a role in the growth of green building as the Philip Merrill Environmental Center. First in the world to achieve LEED Platinum, the building is a powerful case study in how to build with minimal environmental impact. Inspiring and educating countless projects since, the center is a landmark of the green building movement.
Photo credit: Flickr user thregeneration
201X: Your building here
Photo credit: via Wikimedia
By the end of the decade, global building stock is expected to expand to nearly 2 trillion square feet (186 billion square meters). This expansion, along with the rapid growth of LEED in regions all around the world, presents tremendous opportunity to positively influence the way these buildings are designed, built, renovated, and operated, reducing the negative impacts of the built environment at a global scale. The LEED projects highlighted above demonstrate that buildings can move toward high performance at any age, in any part of the world. So where will the icons of this decade be? Some of the most inspirational advancements in green building are occurring right now in China, Brazil, Europe and beyond. This summer, a retail store in Dubai, UAE achieved a record 107 points in LEED, becoming the highest scoring LEED Platinum project to date. What stories will your next project tell to leave a powerful green legacy for the next 200 years?