Become a LEED committee volunteer
Innovative sustainability professionals and building experts can apply by August 31 to become LEED committee volunteers.
LEED is the most widely used green building rating system in the world, with projects in 165 countries and territories, and we need your expertise and commitment to grow LEED even more.
LEED committee volunteers are architects, planners, engineers, manufacturers, developers, educators, scientists and policy professionals. They share a common goal of advancing sustainable market transformation, and they play a critical role in ensuring that LEED remains rigorous and market-relevant.
Now is the time to make your mark—join a LEED committee.
What do committee members do?
Each volunteer position will be for a one-year term beginning January 1, 2018. After this first appointment, volunteers are eligible to serve a maximum of three additional consecutive years on a given committee.
Working closely with USGBC and GBCI staff, our volunteers strive to craft technical solutions for LEED that consider the diverse geographic, climactic, economic and social conditions of project teams located around the world. Volunteers research and collaborate with industry professionals and subject matter experts to help develop, implement and revise the LEED rating systems.
Ideal candidates will
Be familiar with the LEED rating system and have one or more of the specific areas of expertise sought by a particular committee.
Be an employee of a USGBC member organization.
Commit to regular calls (average two hours per month), offline reviews and comments on technical rating system language (average two to three hours per call) and at least one in-person meeting per year.
Committees accepting applications
LEED Advisory Committee (LAC)
LEED Technical Committee
Energy and Atmosphere Technical Advisory Group (EA TAG)
Indoor Environmental Quality Technical Advisory Group (EQ TAG)
Location and Planning Technical Advisory Group (LP TAG)
Materials and Resources Technical Advisory Group (MR TAG)
Sustainable Sites Technical Advisory Group (SS TAG)
Water Efficiency Technical Advisory Group (WE TAG)
Dates to remember
June 1: Application period opens
August 31: Application period closes
September–October: Application review period
November: Results sent to applicants
December: New member orientation and training
January 1, 2018–December 31, 2018: First term for new committee volunteers
2017 LEED committees organizational chart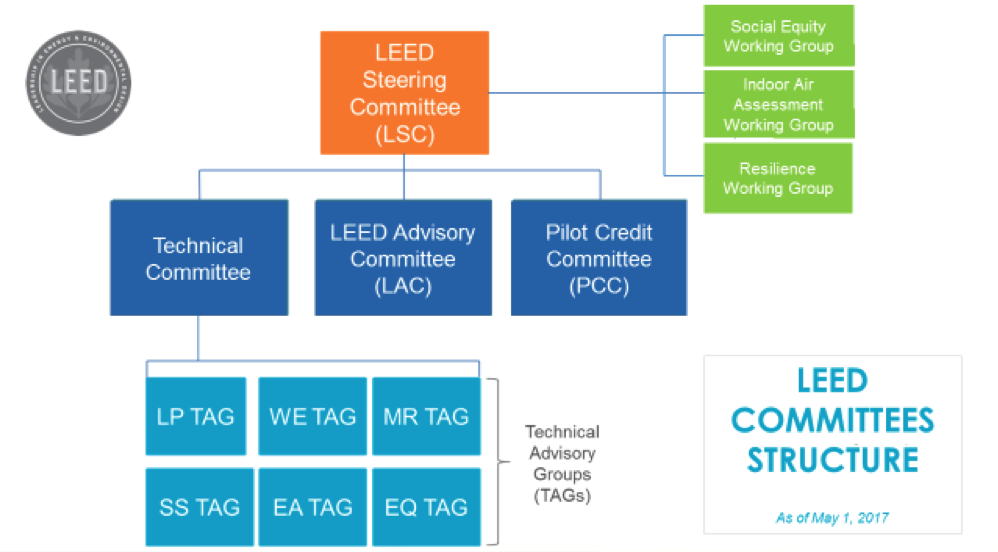 Ready to begin? Start by taking a look at the current volunteer opportunities or learn more about LEED committees.
Apply to be a committee volunteer