Content provided by Michael Ventre of LADWP Communications.
The Los Angeles Department of Water and Power's (LADWP) continuous efforts to go green are closely entwined with its use of the LEED Dynamic Plaque. The more improvements LADWP implements in its corporate headquarters, the more positive feedback the Dynamic Plaque delivers.
In late May, the visual and interactive Dynamic Plaque at LADWP's John Ferraro Building (JFB) in downtown Los Angeles showed that the iconic building owned by the largest public utility in the nation had achieved LEED Gold status. JFB is the first building in the L.A. region to keep its certification up to date with the Dynamic Plaque.
This comes just one year after JFB achieved its initial LEED certification, on the occasion of its 50th anniversary. At LADWP, we are extremely proud of our LEED Gold certification, and we continue to move determinedly in an even greener direction.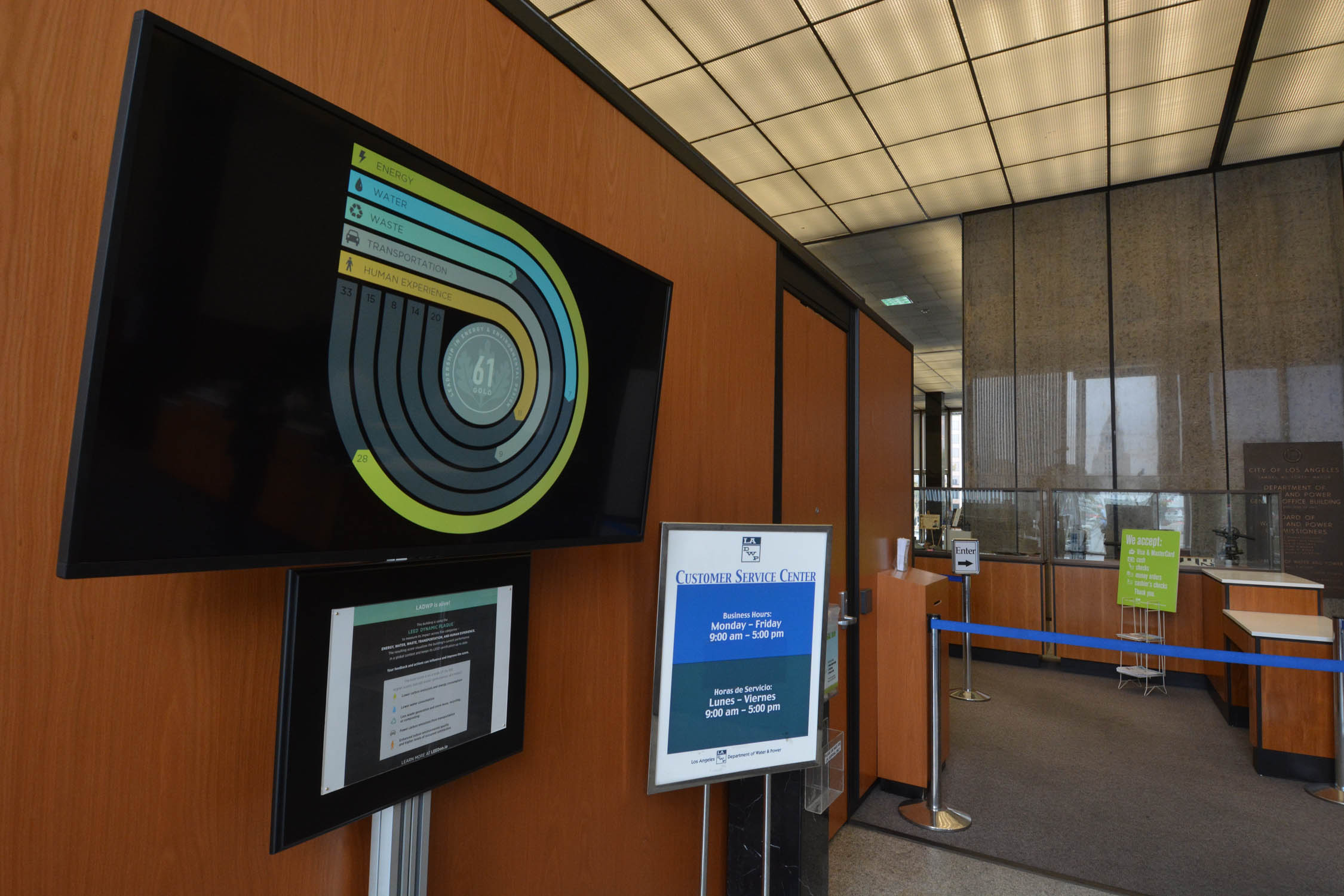 In all five Dynamic Plaque categories—energy, water, waste, transportation and human experience—LADWP scores improved significantly. The LEED Gold status is a tribute to the dedication and ingenuity of those employees on the LADWP's Green Team tasked with the challenge of making a building that was completed in 1965 perform like a modern-day conservation marvel.
LADWP's Dynamic Plaque performance is the direct result of improvements put in place by our building managers and staff to reduce usage, increase energy efficiency and save on costs. For example, it embarked on a major lighting retrofit project involving JFB's 6th and 7th floors and parking lots, which helped to increase its energy score. LADWP also installed a new, more efficient chiller to keep the building cool. Our Dynamic Plaque results mean even more when you consider that JFB is a 24-hour staffed facility and requires more resources to operate than other buildings in our area.
As we all strive for a greener future, LADWP is looking forward to further moving the needle in conservation and sustainability in our own operations and to targeting additional green initiatives with our employees.