This article was originally published on GBIG Insight. Read on Insight.
Yesterday, the USGBC Northern California Chapter and its partners hosted the 12th annual Water Conservation Showcase in San Francisco, CA. It was filled to the brim with exhibitors, green building professionals, students, water systems engineers, government representatives, concerned citizens, and more. The impressive attendance was no surprise, of course, since every day in the news the outlook for California's severe drought seems only to grow more and more grim.
New research USGBC released yesterday at the conference, however, was a little more hopeful. In short: green buildings have been helping and, if even better leveraged, can do even more to help!
Access the study: "Water Conservation and Water Resource Management in California's Green Buildings: Data, Insights and Opportunity"
About a year ago, I was traveling through the Golden State hearing similar signs of alarm about the state's water resources. I wondered how green buildings had been addressing water conservation and water resource management in a state that has a long history of green building excellence. A data set of LEED Building Design and Construction certified buildings in California since 2006 seemed like the right place to start looking for answers, but that's a lot of data to make sense of.
View GBIG collection of 1,363 LEED BD+C Certified Buildings in California (2006-2014)
During that trip out West I met Adrienne Johnson at Stanford University, now a graduate student in the University's Sustainable Design and Construction program. Adrienne ended up accepting our offer for a fellowship with USGBC last summer to help us tackle some critical questions related to green buildings and water use. Of particular interest was this question of LEED and water in California. Eight months, 23 figures, 37 pages, and 89 footnotes later, here is what we found!
Research abstract:
More than 15 years after the launch of USGBC's LEED green building certification program, tens of thousands of buildings around the world, including multiple thousands in the State of California, have demonstrated green building excellence above and beyond standard practice. In the midst of California's current drought—one of the most severe on record—this analysis looks back at nearly a decade of LEED project credit achievement data to see how water conservation and water resource management has been prioritized in a major cross-section of California's green buildings.
The research analyzes LEED BD+C credit achievement data in California from 2006-2014 through multiple lenses, including this comparison with national data from the same rating systems and time period.
The results of this analysis illuminate trends in how LEED project teams in California have addressed building-related opportunities to conserve water, manage water flows off the project site, and restore the state's fragile hydrological resources. The study reveals promising regional and temporal trends in California LEED-certified buildings' water-related efforts. Most LEED projects in the state have achieved more than half of the available water-related credits. The context for these trends include many factors, such as economics, policy, and rating system design which is explored as a potential opportunity for spurring superior water conservation and water resource management in the newest version of LEED (i.e. LEED v4).
The research uncovers four major conclusions. First, that LEED has tracked thousands of water conservation and water resource management activities across the state of California from 2006-2014. Second, that there is considerable room for further improvement to increase participation in water-related green building activities across the state. Third, that given the climate context of the current drought, the climate and energy impacts of water use in buildings requires closer attention. Fourth, that a variety of levers currently exist—including public policy, public awareness, and LEED v4—that can accelerate the uptake of superior water conservation and superior water resource management technologies, methods and practices in the state.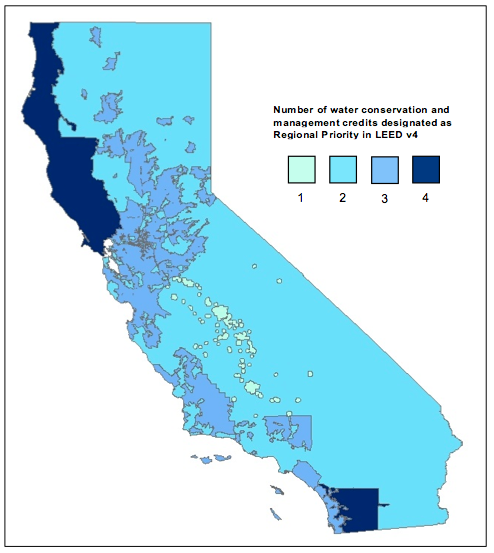 Equipped with this context, insight, and information, policymakers and market actors are positioned to make more informed decisions for how to maximally leverage green buildings—and, particularly, LEED-certified buildings—in the statewide effort to conserve, protect and restore a sustainable water resource for California residents, industries, and ecosystems.
Join USGBC California in April for Policy Palooza 2015 in Sacramento, CA, to advocate for a greater statewide focus on how buildings can be a bigger part of the solution to the current water crisis.