New Year's resolution for 21 U.S. communities is to benchmark data
In 2017, U.S. cities resolve to reduce energy use through benchmarking.
December was a big month for building efficiency in U.S. cities. The cities of Orlando, Los Angeles and Denver have adopted policies that double down on the power of information through building energy and water benchmarking.
As with setting successful New Year's resolutions, you have to know where you are before you can determine where you want to go. You can't manage the success of your building's energy and water performance if you don't first commit to measuring them.
This is exactly the lesson that these three cities—and the 19 other U.S. cities and counties that are working with private sector building owners to actively monitor and manage energy and water use—have demonstrated this holiday season.
Orlando, Florida
December's first mover was Orlando. On Dec. 5, with tremendous hard work and support from USGBC Florida, the City Commission unanimously passed the Building Energy and Water Efficiency Strategy (BEWES) ordinance. The new law commits existing commercial, institutional, multifamily buildings larger than 50,000 square feet to tracking whole-building energy use. They will do this via Energy Star Portfolio Manager and annually report the data. In addition, those buildings with scores under the national average will complete a free energy audit through the local municipal utility once every five years.
Notably, the Orlando policy covers less than 5 percent of Orlando's buildings, which account for more than 50 percent of total energy and water used by all buildings citywide.
"It is USGBC Florida's goal to make compliance easy, and to knock success metrics out of the park for Orlando and the several other Floridian cities considering similar ordinances," said USGBC Florida's director of policy and programs, Sarah Boren. Learn more about the ordinance and USGBC Florida's work to support its successful passage.
Los Angeles, California
Next came Los Angeles, on the heels of another great Greenbuild celebration. On Dec. 13, the L.A. City Council adopted the Existing Building Energy and Water Efficiency (EBEWE) ordinance. It was signed into law by Mayor Garcetti two days later. The ordinance commits buildings in the city over 20,000 square feet to benchmark annual energy and water use and to make this information public. The city commits to help owners better manage their buildings by providing meaningful comparisons.
At least once every five years, buildings will be required to take efficiency actions, such as energy audits or retrofits to reduce energy and water use. USGBC Los Angeles was an active participant in the nearly two years of stakeholder engagement that led to the ordinance. The stakeholder group steered the new policy's development to align with complementary state policies that USGBC has been supporting in Sacramento.
In the mayor's press release (that pictures USGBC Los Angeles director Dominique Hargreaves immediately to the Mayor's right), Councilmember Bob Blumenfield commented, "By working collaboratively with our city's largest consumers of resources, we are creating a force multiplier that will reduce overall energy and water use while saving businesses and taxpayer money."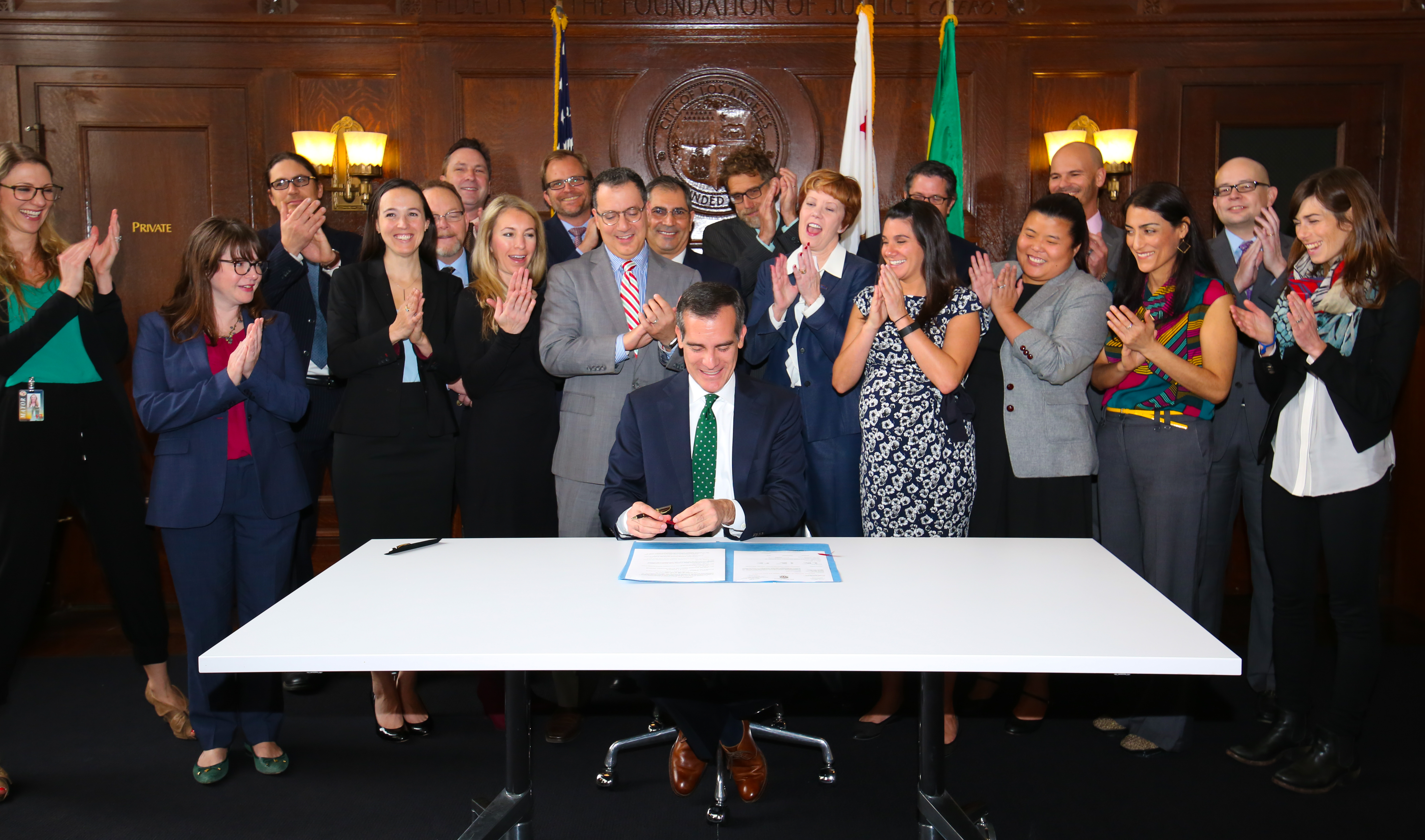 Mayor Garcetti signs the EBEWE Ordinance requiring annual energy and water benchmarking. The team that made it happen includes USGBC Los Angeles, BOMA Greater Los Angeles, Global Green, the L.A. Better Building Challenge, the Department of Water and Power, the Department of Building Safety, and the Mayor's Office.
Denver, Colorado
Denver joined the club on Dec. 19, as the Denver City Council unanimously passed an ordinance that established the Energize Denver program. The new law commits commercial and multifamily buildings over 25,000 square feet to tracking, reporting and disclosing their Energy Star score, with a phased implementation over the next two years.
In a press release, Mayor Hancock emphasized that "Local actions can have global impacts, and Denver will join with cities across the world who are taking positive steps to make their cities more resilient to our changing climate."
According to the city, energy use from heating and cooling in buildings is the single largest source of greenhouse gas emissions in Denver, making up approximately 57 percent of Denver's carbon emissions.

The ordinance followed an 18-month stakeholder process led by Denver's Department of Environmental Health, with active participation from USGBC Colorado. In a recent article in the Denver Business Journal, USGBC Colorado director Patti Mason summed it up: "Public policy that requires buildings to begin measuring, monitoring and managing energy unlocks critical information that can drive smart, targeted investments."
Who's next?
December was a big month for building efficiency, but what will January bring? Has your city committed to benchmarking for its New Year's resolution?
USGBC looks forward to our continued partnership with cities across the country to support green building policy in 2017.