Onsite water reuse explored at Best in the West webinar (USGBC Northern California)
USGBC Northern California's webinar gave users across eight states an in-depth look into water reuse strategies.
Integrating onsite water reuse
USGBC Northern California recently presented a Best in the West webinar about onsite water reuse, which was attended by over 50 participants from eight states. Attendees learned about incorporating onsite or district-scale water reuse systems, including how to determine what types of systems will work, what's allowed in different jurisdictions and the pros and cons of different technologies.
To follow up, a working group of design professionals is developing a guide for practitioners to better understand why and how to integrate onsite water reuse into the design process. The guide, which will be available for free on the website collaborativedesign.org, will be available soon.
Where does water come from?
Many aspects of our national water infrastructure are in abysmal condition and pose serious health and environmental threats—think Flint, Michigan. The U.S. EPA may not be a well-funded partner in the near future. And yes, there's that pesky little thing we call global climate change.
And yes, many of us probably do take for granted that when we turn on the tap on the kitchen sink, clean water will pour out, and when we flush our toilets, dirty water will go away, forgotten. But a great deal of energy goes into getting water to where we live and work, and cleaning it before and after our use.
Water, therefore, is a design opportunity, yet many architects and engineers do not consider water reuse in the design, construction and operations of our buildings and neighborhoods. Part of the reason for this is that we have not felt it to be necessary. Another reason is that talking about what happens to water makes many of us uncomfortable—the "yuck factor."
Addressing water use proactively
However, there are plenty of reasons to consider onsite water reuse. It can ease the burden on overstressed infrastructure. It can mitigate regional shortages. It is a pathway toward meeting several green building certification criteria, such as the LEED v4 wastewater management credit. It may even be required for some building types, depending on your location.
Onsite water reuse involves treating used water at a building or district scale to a degree fit for another purpose, such as flushing toilets, irrigating landscaping or use in a cooling tower. The technologies—the easy part of the equation—have been around for a long time, and they continue to evolve. The tough part is getting all parties past the yuck factor, communicating the benefits to clients and working with regulatory officials to assuage public health concerns.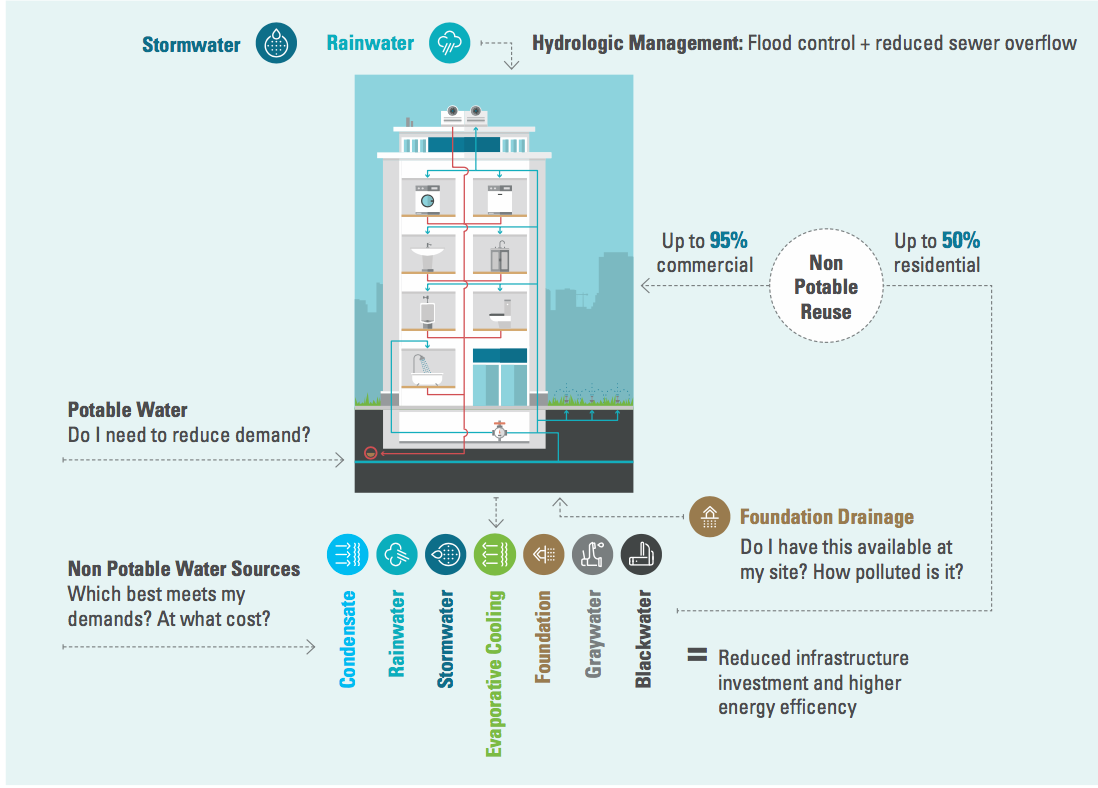 Clearly, reusing water in your building project requires much from the design teams involved. To start, they must be well versed in the intricacies of developing a water budget by understanding the amount and quality of the water coming into the building, and the same for all uses. They must also have a basic understanding of the regulatory requirements of the building's jurisdiction; is water reuse even allowed?
To any designer, this should be seen as a classic design problem and a major opportunity to start thinking differently about the future of designing with water and the benefits water reuse holds for the projects we design and build. Success is having the framework to navigate the design process to onsite water reuse.
To that end, the water reuse working group of design professionals is developing the guide to integrating onsite water reuse into the design process, and it will be released this summer. Using an architect-friendly, visually appealing interface, the guide will offer tips for talking about and implementing onsite water reuse, go over whether water reuse is appropriate for your project, discuss strategies for getting projects permitted and provide descriptions of current onsite treatment technologies.
See more upcoming USGBC Northern California learning opportunities