Every time I travel and meet new people, I realize anew the power of the green building movement.
Last week, Kimberly Lewis and I joined 10,000 interfaith religious leaders from around the world at the Parliament of the World's Religions conference in Salt Lake City, Utah. Along with local USGBC volunteers and members of USGBC Utah, we exhibited and presented at this global event.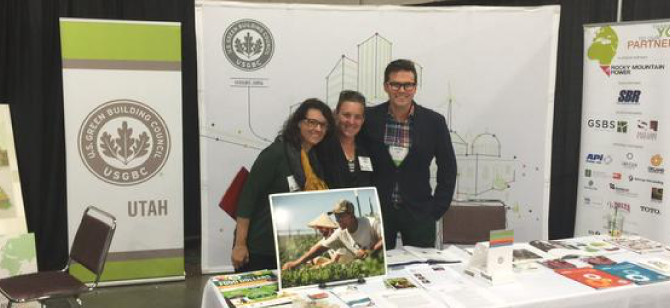 This conference is mounted every five to six years. The 2015 event, themed "Reclaiming the Heart of Humanity," convened top religious scholars, writers, speakers and activists in a dialogue about the intersecting goals of compassion, peace, justice and sustainability. In support of this powerful message were such leaders as His Holiness the Dalai Lama, former U.S. Vice President Al Gore, Dr. Jane Goodall, Dr. Vandana Shiva, Chief Arvol Lookinghorse and more. Together, they advocated for global attention to issues including racial and religious relations; income equality; immigration; and the human rights and dignity of women, children and all oppressed peoples. By the end, six declarations were signed and presented by attendees regarding:
The themes of this dialogue aligned well with USGBC's mission and guiding principles. But what was especially apparent to me was the necessary call to action voiced by so many leaders. This was eloquently summarized by His Holiness the Dalai Lama's address to the Parliament:
"Prayer is very effective for individuals, but not for [the] world. Thus, we need action."
The need for action is at the heart of USGBC's work. According to research, our built environment contributes to 41 percent of energy use, 73 percent of electricity consumption, 38 percent of CO2 emissions, 13.6 percent of water use and 40 percent of raw materials used globally. Green buildings offer an answer to these global issues that seem overwhelming to many people. By addressing energy, water, resource and land use through our buildings and communities, we act upon tangible and highly effective solutions that have marked results. The practicality of USGBC's mission and approach was a topic of discussion at a Sunday night reception with leaders from Parliament of the World's Religions, Utah state and local government representatives and green building professionals.
On the final morning of the event, USGBC hosted an ADVANCE: KickSTART workshop for attendees. This interactive session was well received by participants as it outlined simple, cost-effective actions that can be taken in existing buildings. The workshop helped participants define the value of green building and sustainability in their own terms, to better gain support from their community. They were given tools to identify the key players from their organization who would be needed to build a lasting team. Working together, these teams can define common goals to implement successful strategies for sustainability.
We invite nonprofit organizations built around community, faith, educational and other programming to join us. Those who seek practical solutions to improve environmental and human health performance can discover great opportunities through ADVANCE!