I've been asking senior leaders this question: "Is there a clear path for a good idea to come from anywhere in your organization?" The general consensus is no, there is no clear path for a good idea to find its way forward from anywhere, not for universities, corporations, airports, government agencies, nor non-profits alike. There are some specific exceptions, but they are specific and they are exceptions. Instead the general agreement seems to be that the success of a good idea depends mostly on the sheer tenacity of its champion.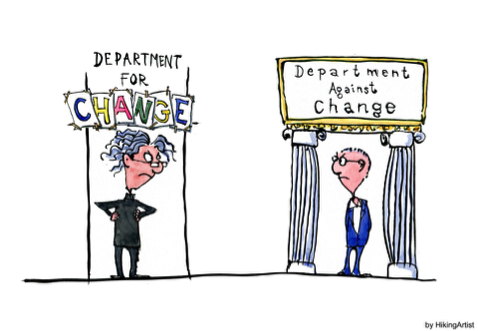 "The command control operating system exhibits low levels of change-capability and agility."
I've also been asking senior leaders, "Do you think management-driven hierarchy, or the command control operating system that predominates almost all sectors, is adequate for tackling a complex adaptive challenge like sustainability? Or is it adequate for tackling our other complex 21st century challenges?" No one is saying yes. Add to this anecdotal avalanche the empirical nugget that 70% of the US workforce is disengaged at work (Gallup State of the American Workplace Report 2013), and there you have it. Nobody actually seems to think that our predominant mode of organizing is going to get us through this century effectively.
Put simply, we are in the wrong organizational vehicle for the 21st century.
This is big news. It begs the question for the sustainability-minded, why are we all still running around the deck of this sinking ship, tossing out water and trying to change direction, when the ship itself might be our most immediate problem? One of the biggest reasons, of course, is that if we are going to talk about the deep work of organizational transformation, then we must have the involvement of enough senior leaders. Otherwise, it's great dinner conversation, but there is no sleeve rolling come Monday. Senior leadership engagement around sustainability has been hard to stir up in any consistent way and the bandwidth senior leaders have dedicated to it has often been consumed by low impact leadership.
Senior leadership bandwidth must be directed towards high impact sustainability leadership
To use Ron Heifetz's highly effective dance floor and balcony metaphor for adaptive leadership, it seems that sustainability has been so new that we've collectively stayed on the dance floor, in the midst of the action. We haven't found the sustainability balcony to perceive the bigger picture and the patterns. One result of this is that senior leaders have been peppered with individual sustainability battles, little victories and incremental goals towards doing less bad. As a result, many leaders have sensed in sustainability a bottomless pit of need that fills them with dread.
But that dread goes away as a senior leader finds their way up onto the balcony to check out the dance floor action from above. From here they can perceive the structural and system level interventions that could enable their organization to really get its green groove going down on the dance floor. They can see a way to lead within the constraints of their own bandwidth that will have lasting and expansive impact. There is a sense of liberation and possibility.
From this higher-level vantage point, it becomes possible to see how the right kind of sustainability leadership can transform an organization into an agile, innovative, and profoundly change-capable enterprise with the fitness to go beyond simply doing less bad towards a mutually regenerative relationship with our planetary life support systems. Along with this new fitness comes the enormous value proposition of making other complex adaptive problems easier to solve as well. After all, sustainability is the ultimate complex adaptive problem, so developing the right organizational fitness to truly take on the sustainability triathlon (social, economic and environmental) pretty much guarantees relevant fitness for all of our other adaptive problems. Viewed and lead from the right elevation, sustainability is the problem that can solve your organization.
It's not about throwing out command control, it's about complementing it
To be clear, the sustainability balcony does not confer a spontaneous altered state of consciousness upon those that stand on it. Senior leaders remain understandably hesitant to explore uprooting the command control systems and structures on which their organization relies. But a significant number of leaders will entertain the idea of creating a second complementary operating system, an adaptive operating system, that can be harmonized with command control to bring about a new era of organizational engagement, agility and change-capability so that large numbers of good ideas can come from anywhere and take root, continuously and stably.
CBIS Framework" by L.Sharp & R.Gutter, adapted in part from J.Kotter, is licensed for open sharing and adapting under Creative Commons CC BY-AS 4.0"
Above: The CBI-S framework for organizational transformation involves two operating systems, command control and adaptive, each with its crucial and distinct function iterating and harmonizing towards a shared sustainability purpose. A healthy, purpose-driven dual operating cycle unleashes powerful new levels of employee engagement, organizational agility, change-capability & innovation.
Defining Core Business Integration of Sustainability (CBI-S)
Core Business Integration of Sustainability is a commitment to go beyond treating sustainability as an add-on and settling for doing less bad. It's about taking up the qualitatively different leadership challenge of driving sustainability into the core mission and business of the organization by unleashing the profound motivational force that is sustainability and ensuring there are productive ongoing pathways for its full ongoing expression. A CBI-S leader positions sustainability as a driver of organizational transformation to advance engagement, agility, systems-thinking, change-capability and innovation. A CBI-S organization integrates and harmonizes adaptive cycles of engagement, collaboration and applied learning with command and control routines of scaling, execution and accountability. In summary, CBI-S transforms or re-invents organizations to unleash the full potential of people to address complex adaptive problems.
Six common reactions to the big ideas behind CBI-S
In the last 9 months we've shared the big ideas behind CBI-S with over 500 senior leaders and sustainability professionals from different sectors at a variety of different conferences and workshops. Here is a short list of commonly observed reactions:
Most leaders are relieved that instead of proposing the end of command control we are proposing the integration of the two operating systems.
There is a widely shared intuitive understanding of the adaptive operating system (left in diagram), its potential & importance. Leaders who have been leading in this direction have been going it alone, intuitively & without a shared language or shared understanding.
There is enthusiasm for using the language, graphics & framework of CBI-S to help make organizational transformation more of a team sport.
Leaders are quick to identify the larger value proposition of CBI-S as being agnostic and applicable to other complex adaptive problems.
Leaders affirm that CBI-S will be best learned through applied exploration, ideally in the company of other senior leaders on the same path. To this end, there is agreement that sustainability is a very fertile laboratory for this applied organizational transformation process.
Aspects of CBI-S are not new in the sustainability space
Sustainability professionals exposed to CBI-S are noting that the most successful sustainability efforts within large organizations have exhibited a recurring theme of the emergence of the adaptive operating system along with a Shakespearean-like struggle to integrate it with the existing command control operating system. The Shakespearean dimensions are generally shared over about the third drink as such riveting tales of heroism, tragedy and farce that one wonders why a sitcom hasn't come out of it yet. Sustainability professionals have also noted that their struggles have been greatly compounded by being without a shared language or shared understanding around the work of transforming organizational systems, processes and structures. They also agree that having this will be a game changer, effectively enabling change leadership for sustainability to advance from amateur sport to professional sport.
We need lots of applied learners and intellectual contributors
Now that we have enough of a shared meaning framework to convene around, we need large numbers of senior leaders and sustainability professionals to advance this critical leadership work through applied experimentation and shared learning at scale. To advance this, Harvard T.H. Chan School of Public Health Center for Health and the Global Environment and the U.S Green Building Council are teaming up as two founding conveners in a growing network of CBI-S conveners. They opened shop with a selective 3-day pilot program at Harvard in Executive Education for Sustainability Leadership with a focus on CBI-S in June 2014. This program received an overall evaluation of 4.75/5 and as evidenced by a sampling of participant sentiments below, it validated the core concepts of CBI-S, opening the way for scaling up the engagement of senior leaders across all sectors. As the CBI-S network of conveners and offerings grows, we continue to offer this program at Harvard with two 4-day Executive Education for Sustainability Leadership offerings in 2015, July 7-10 and October 19-22 with a roster of world-class faculty, thought leaders and practitioners.
Want to learn more? Join one of the informational webinars. During this free, half-hour online session, you will learn about the nuts and bolts of the 4-day residential executive education programs.
Thursday, April 16, 2015, 4-4:30 pm EST
Tuesday, April 28, 2015, 12:30-1 pm EST
Thursday, April 30, 2015, 4-4:30 pm EST
Wednesday, May 13, 2015, 4-4:30 pm EST
What do past attendees say about the program?
"This new program is the first I've seen that properly addresses the organizational change demands of our work as sustainability leaders and practitioners. The course is an extremely sound investment for any sustainability leader trying to work out how to get things done." - Senior Director, Environmental & Supplier Diversity Strategy, Office Depot
"This program delivered a critical missing piece for me around change leadership and sustainability." - President, College of Lake County
"It will blow your mind! Very enriching, validating to my intuition, clarified my thinking, elevated my energy and expanded my vision. I now perceive aspects of sustainability that hadn't occurred to me." - Chief Sustainability Officer, Skanska USA
"I left energized and ready to tackle the most complex adaptive problems that my college faces." - President, Lane Community College
"The program provides an important framework for thinking about and effecting change in a rapidly changing and socially connected environment." - Senior Vice President, Chief Sustainability Officer, MGM Resources International
2015 Tuition
July 7-10
$3900 Super Early Bird tuition rate for applications received by May (payment must be received by May 20 for Super Early Bird rate to apply)
$4200 Early Bird May 8-June 7
$4400 Full Price June 8-June 30
October 19-22
$3900 Super Early Bird Rate until May 19
$4200 Early Bird May 20-August 19
$4400 Full Price August 2-October 10
Does the subject matter of this piece resonate with you, and would you like to receive updates on future CBI-S related offerings? Sign up to stay connected.