As a rising senior at the University of California, Los Angeles (UCLA), I have seen my campus respond to environmental problems with powerful, adaptive sustainability initiatives. Recent turf-replacement projects like drought-tolerant landscaping and artificial turf—installed on the Intramural Field during California's drought—are estimated to save 11.5 million gallons of water annually, and energy-efficient, LEED-certified buildings have moved the campus closer to its goal of carbon neutrality by 2025 and the UCLA Sustainable LA Grand Challenge goal of 100% sustainability in energy and water throughout the LA Region by 2050. (Read more about UCLA's artificial turf project and UCLA Grand Challenges.)
Student organizations are working on campus to implement their own responses to these same challenges, like the student-led initiative that installed 132 solar panels atop Ackerman Student Union. By making students an integral part of sustainability initiatives on its campus, UCLA ensures the sustainability of its legacy. (Read more about the Ackerman solar project here.)
UCLA and campuses across the UC system have also shown their commitment to their sustainable legacies through their history with LEED (Leadership in Energy Efficiency and Environmental Design) projects and education. As a southern California native and a UC student, I decided to take a closer look at LEED and opportunities for student engagement in three southern California, UC campuses—UC Santa Barbara (UCSB), UC Los Angeles (UCLA), and UC Irvine (UCI).
In 2002, UCSB's Bren Hall became the first LEED-certified building in the UC system and the first U.S. laboratory building to receive USGBC's highest certification—LEED Platinum. This revolutionary project solidified UCSB's reputation for innovation in the green building movement and set a precedent for sustainability among UC campuses.
Seven years later, Bren Hall became the first building anywhere to receive a second LEED Platinum certification, this time for Operation & Maintenance of an existing structure. The second certification validated both the commitment of the Bren School and UCSB to maintaining the building to high standards, as well as the value of Bren Hall in terms of generating dollar savings over time while enhancing campus sustainability. (Read more about Bren Hall in USGBC+.)
UCSB's Bren Hall. Photo courtesy of the Bren School of Environmental Science & Management.
Today, UCSB is still taking the lessons it has learned from Bren Hall and applying them to buildings across its campus.
"Many people think of buildings as static structures, but that is not the case in Bren Hall," notes Sage Davis, Building Manager for Bren. "How these technologies were successfully incorporated helped determine whether they were applied again on the larger 'living laboratory' of the UCSB campus."
Universities across the UC system are also learning from Bren Hall and UCSB's 'living laboratory.'
"Labs and medical buildings are among the most challenging to certify, especially from the energy usage point of view," notes Todd Lynch, Principal Project Planner for UCLA Capital Programs. "They rely on clean conditions and clean air, and there is a lot of energy involved in moving air through a space. Bren Hall at UCSB was certainly an inspiration, as it showed that even an energy-intensive program like a lab could successfully meet LEED criteria."
The Bren Hall innovations and the LEED Platinum certifications they generated set the stage for a ripple effect across UC campuses, as a UC-wide green building policy was established after Bren's certification. In just ten years, my home campus of UCLA has LEED certified 25 buildings, including the iconic Pauley Pavilion, which was certified LEED Gold in 2014.
Home of UCLA's basketball, volleyball, and gymnastics teams, Pauley Pavilion has been in the heart of UCLA, geographically and figuratively, since it first opened in 1965. This high-visibility building allowed the project team to experiment with new sustainability strategies and educate visitors, just as the Bren Hall team continues to do today.
UCLA's Pauley Pavilion. Photo Credits: NBBJ Photography.
"Pauley is a building with significant history and serves a huge population right at the center of campus, so its certification has had a lot of impact," notes Lynch. "Beyond all the ways the Pauley remodel saved water and energy, though, it also has been leading the way with Zero Waste efforts. These efforts have involved two student Action Research Teams, careful attention to making concessions compostable or recyclable, and signage and outreach for getting out the word."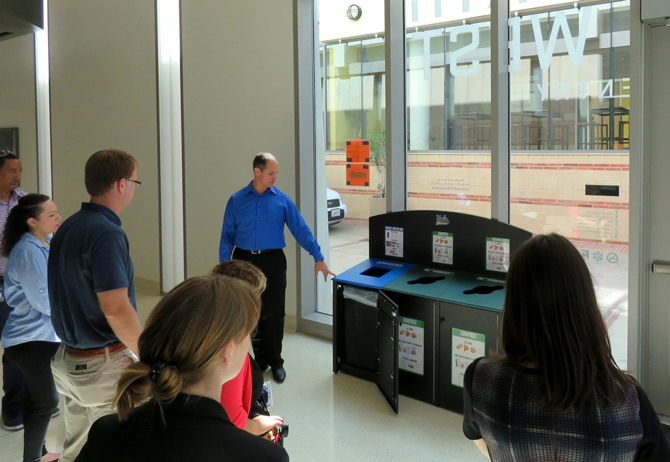 Rich Mylin, Director of Rcreation Sports Venues and Events Operations for UCLA Recreation, explains Pauley's three-bin waste system. Photo courtesy of UCLA.
Since 2007, UC Irvine has earned 23 LEED certifications, including eight Gold and 13 Platinum awards for newly constructed structures. One of those Platinum buildings is Gross Hall—a 100,000 square-foot stem cell research building that was LEED certified in 2011. Built to house research and educational facilities dedicated to stem cell therapies for a number of debilitating diseases, Gross Hall is pioneering the way in the medical and sustainability fields.
"Gross Hall is one of the most energy-efficient labs in the U.S." said Richard Demerjian—Director of Environmental Planning and Sustainability for UC Irvine—in an interview following the 2011 certification. "This LEED Platinum certification recognizes Gross Hall's extraordinary energy efficiency, plus its many other green building features, further establishing UC Irvine as a national leader in campus sustainability."
Sue and Bill Gross Stem Cell Research Center. Photo Credits: Nick Merrick© Hedrich Blessing 2010
The rapid growth in LEED at these two campuses serves as powerful evidence that these universities have followed Bren Hall's green building leadership and created their own esteemed reputations for green building. But, the project teams are not the only ones that can learn from these legacies. Students are recognizing the importance of green buildings and becoming inspired to get involved in the sustainability movement themselves.
Megan, an Environmental Science major at UC Irvine, remarks on the significance of LEED at her university, "It is comforting to know your school has the same values as yourself and values sustainability. It is motivating to see sustainability in action."
These three campuses are responding to students' interest in sustainability with courses and organizations that give students the opportunity to work with LEED and certify buildings on their campuses.
Megan and other sustainability-minded, UC Irvine students have participated in the Facilities Management Sustainability Team, which has worked on LEED EBOM certification for six buildings over the past two years.
"They have all gained knowledge and hands-on experience about how important it is for the environment to strive for green buildings that conserve energy and water use and improve building occupant satisfaction," notes Anne Krieghoff, Sustainability Manager in Facilities Management for UC Irvine, referring to the Sustainability Team.
Remember the LEED certification of UCLA's Pauley Pavilion? Last year, students on two of UCLA's Action Research Teams (ART) researched the most effective strategies to convert this LEED venue to zero waste.
"The students are able to have a lasting impact at the university through working together with staff, collecting data and making recommendations for increasing sustainability at UCLA," remarks Nurit Katz, Chief Sustainability Officer for UCLA, noting the impact of the ART teams.
Some of these ART team members have also participated in UCLA's chapter of USGBC Students. For three years, this student organization has been educating students about green buildings and LEED and preparing them to earn their LEED Green Associate credentials. One alumnus went on to work as a consultant on a LEED project at UCLA, bringing the university's education of the next generation full circle. (Learn more about USGBC Students.)
UCSB has its own chapter of USGBC Students, and last year UC Santa Barbara joined the LEED education movement by piloting LEED Lab on its campus. This hands-on course focuses on a building's operations and maintenance, giving students the opportunity to LEED certify existing buildings on campus and preparing them to sit for the LEED AP O+M professional credential exam. (Learn more about UCSB's LEED Lab.)
"LEED Lab really is a win-win for both UCSB and the participating students: the campus earns another LEED certification at very low cost, and the students gain the hands-on green building education and project management skills to jump-start a strong career as sustainability professionals," notes Cassidy Green, LEED Program Manager at UCSB and one of the leaders of the LEED Lab team.
The students' feedback on the course has also been overwhelmingly positive. One student described the experience, "What I enjoy most about LEED Lab is how interactive the course has been. It gave me the hands-on experience that's been missing from my college education. The course has improved my understanding of the integrative process of certifying a building and has enhanced my interest in this field."
UCSB LEED Lab students on the Materials and Resources team sort through collected waste. Photo courtesy of UCSB LEED Lab.
As the ongoing commitment to LEED among these universities shows, for these campuses, LEED is more than a one-time recognition for their Leadership in Energy Efficiency and Environmental Design. LEED encourages them to lead, innovate, and strategize in order to update their green building portfolios to align with the resiliency of their individual sustainability missions.
The continual innovation on our campuses provides an exciting opportunity for students like me to be an integral part of sustainability conversations at our universities. Courses like LEED Lab and organizations like USGBC Students create an easily accessible platform for these discussions. During these four years of our lives, we can learn about countless innovative technologies in the green building movement and beyond. So, I encourage students to take advantage of your campuses' efforts toward sustainable legacies and get involved. You might just help LEED certify the next Bren Hall.
Learn more about how to start a USGBC Students Chapter. If you are faculty or staff and would like to start a LEED Lab, please complete the LEED Lab interest form. Learn more about how to pursue a LEED Green Associate or LEED AP.