Volunteering at USGBC Colorado is a great way to get involved in the community. Currently, there are four active committees that meet every month. We hope you get involved in a cause you are passionate about!
Green Schools Initiative (GSI)
green school /grEn skül / n. a school building or facility that creates a healthy environment that is conducive to learning while saving energy, resources and money.
Our goal is to green all Colorado schools within this generation.Watch our video to learn more:
The USGBC Colorado Green Schools Initiative convenes a diverse group of stakeholders, including architects and engineers, builders and innovators, teachers and principals, educators and energy managers, in order to find realistic solutions that help Colorado schools achieve higher levels of resource efficiency.
Green schools lead to improved student health, test scores, and faculty retention;
Green schools have better lighting, temperature control, improved ventilation and indoor air quality, all of which which contribute to reduced asthma, colds, flu and absenteeism; and
Green schools reduce the dangerous air pollutants that cause respiratory disease and contribute to premature morbidity and mortality.
Colorado school districts have a long legacy of managing resources efficiently. Early green schools adopters include Poudre School District and Boulder Valley School District, which are located in communities well-known for their leadership in sustainability.
The following are green schools case studies created by USGBC Colorado and Institute for the Built Environment at Colorado State University:
Get involved by contacting Patti Mason.
Sign up to receive email
Education Committee
USGBC Colorado has five regionally based education committees located in Northern Colorado, Southern Colorado, Metro Denver, Roaring Fork Valley and Eagle Valley.
These committees are committed to identifying and delivering impactful education programs and activities on sustainability and green building topics. Comprising education liaisons from each branch and other volunteers dedicated to education across the state, these committees work together to make sure the community is delivering meaningful education events. Get involved by contacting Annie Hall.
Commercial Real Estate Initiative (CREI)
Mission Statement: We are driven to transform the way buildings and communities are designed, built and operated, improving the health of our neighbors and environment. To provide high-quality events that share the expertise of our CRE members, provide education and drive our industry leaders and community.
USGBC Colorado's CREI Committee helps create this reality by
Presenting the compelling business case for green buildings to owners and occupants.
Connecting professionals in the commercial real estate industry with USGBC Colorado members and other green building industry experts.
Hosting education and networking forums designed by and for commercial real estate professionals.
Get involved by contacting Jordan Turboff, and sign up for emails.
Sign up to receive email
Emerging Professionals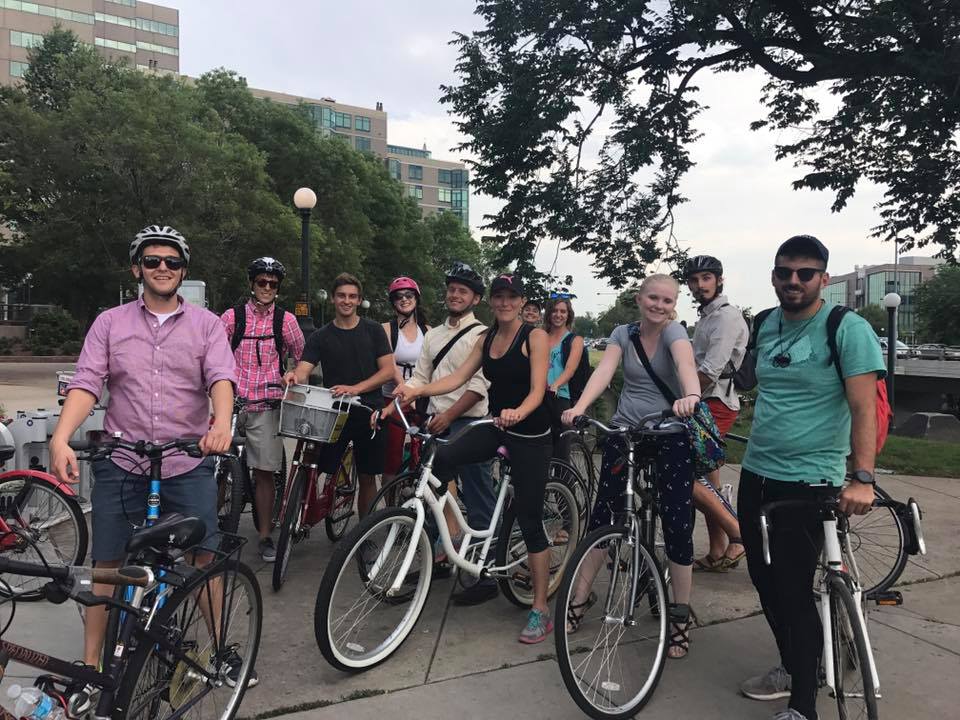 The Emerging Professionals Committee is a diverse group of enthusiastic entrants to the world of sustainable design, engineering and construction. Members include recent graduates and young professionals looking to connect with the green building community.
Our objective is to provide education, networking, professional development and enriching volunteer opportunities that help members connect with the green building community and promote sustainable building practices and lifestyles.

New members are always welcome!

Gain valuable experience and grow your network while helping represent the interests of young professionals to USGBC Colorado staff and fellow volunteer leaders. Volunteer activites include attending meetings, education event planning and community service.
Get involved by contacting current co-chair Domenic Martinelli or Melody Flores. Contact the chairs for the next meeting time. Typically, the group meets every other month on the second Tuesday of the month from 5:30-6:30 p.m. View our Emerging Professionals page on Facebook for updates and announcements.
Sign up to receive email