VERGE SF: Envisioning the future of big data and green building
Why "Big Data" will transform the design, construction, and operation of the built environment.
So, an engineer, scientist, designer, and an entrepreneur walk into a bar… It could be the beginning of a bad joke, but in San Francisco last week these professionals all agreed on at least one thing: Big Data will transform the design, construction, and operation of the built environment.
Last week, I had the privilege of joining four colleagues to talk to a packed house about "Big Data and the Built Environment" at the VERGE SF conference in San Francisco. The panel provided an exceptional indication of the current state of the industry, as well as the enormous potential for transformative change. We heard Paul Mathew introduce the Department of Energy's Building Performance Database, Josh Emig talk about emerging areas of digital practice at Perkins+Will, Lindsay Baker hinted at new occupant-responsive control technology from Building Robotics, and Harry Hobbs inspired the audience with his cutting-edge applications of information technology to manage energy at Intercontinental Hotels.
The building industry often enters the "Big Data" conversation through energy efficiency, and this is where our conversation started off last week. This is understandable. We are excited about the opportunities created by a growing Smart Grid and the proliferation of sensors and sub-meters. These provide unprecedented information about energy use over time and across spatial scales. This also reflects the long-standing, foundational importance of energy efficiency to the green building movement.
Yet, I would argue energy efficiency alone is rarely really big data. As many academics have argued, the concept of "Big Data" refers to mixtures of volume (scale of data), velocity (analysis of streaming data), variety (difference in forms of data), and veracity (uncertainty associated data). Relatively speaking, energy efficiency alone is modest by these measures. Green building changes things and brings true Big Data into play.
Green building encompasses energy efficiency and adds many more dimensions of performance. LEED offers a definition of green building which includes location and transportation, energy and atmosphere, water efficiency, materials and resources, and indoor environmental quality. This breaks out into hundreds of individual LEED credits and thousands of specific metrics. Taken together, these criteria define buildings that benefit people and the environment.
A Big Data story starts to emerge when tens of thousands of green buildings projects using thousands of metrics, generate data from tens or hundreds of thousands of automated "points", and provide daily experiences for millions of occupants. Now, we're talking Big Data: huge data volumes, streaming at different rates, taking a wide variety of forms, and varying dramatically in their accuracy, precision, and reliability.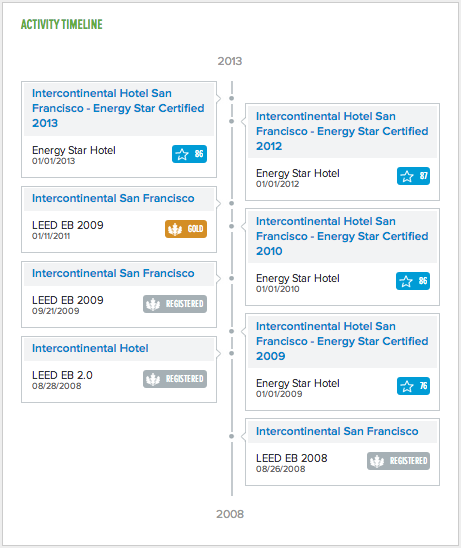 GBIG timeline of green activity at the Intercontinental Hotel in San Francisco
We are just starting to understand and begin to leverage the expanding universe of data associated with green buildings. At USGBC, this includes the on-going development of the Green Building Information Gateway,www.gbig.org. GBIG is an integrative platform to understand the performance and attributes of buildings around the world. GBIG provides project transparency, market context, integrated timelines, and analyticinsights. Over time, our work on GBIG is helping us prepare for a world where information about the green dimensions of buildings comes from many sources over extended periods of time. For example, a high-performance green building may include a LEED-NC certification, an AIA/COTE award, a public ENERGY STAR label, information from municipal benchmarking, a LEED-EBOM certification, participation in a utility demand response program, and contracting through a solar power purchase agreement. Each of these activities and attributes is associated with many different metrics and, to varying degrees, on-going data streams. Ultimately, these pieces of data will be used together to identify and recognize high performing assets under superior management.
Our conversations at VERGE SF was another important step down this road. To a remarkable degree, the participants on our panel shared a common vision for a transformed, data-driven world of green building practice. We're on our way.